VERNON – An Indo-Canadian man who fled to California after the murder of his wife 30 years ago in the BC town of Vernon is being extradited to Canada from the US to face murder charges.
Paramjit Singh Bogarh was charged recently for the murder of his wife Saminder Kaur Bogarh along with his brother Narindar Singh Bogarh.  This was first-degree murder and was accused take in charge in 1986.
This Indo-Canadian man was extradited from the United States to face charges of first-degree murder as well as conspiracy to commit murder.
The BC Prosecution Service continues to pursue the extradition of Paramjit's brother, Narinder Singh Bogarh, who is believed to be in India.
Narindar is also facing charges of first-degree murder and conspiracy to commit murder.
Paramjit has been ordered detained and has had his matters adjourned by consent. He appeared on Thursday in Vernon Law Courts by video and his lawyer said his client will seek bail.
Appearing via video, 57-year-old Paramjit Singh Bogarh, his long white beard and traditional Sikh headwear a stark contrast to the vibrant orange apparel, sat quiet speaking only to confirm his identity before a Justice of the Peace as his matter was carried over to June 28 to fix a date.
According to court documents, Paramjit Singh spoke openly about killing her while seeking a leadership position with a religious group at a California Gurudwara.
The RCMP suspected Bogarh, who was born in 1961, and his brother at the time of Saminder's brutal stabbing death at her home but the prosecutor was not satisfied that the burden of proof could be met and the charge was stayed, according to court documents filed in the U.S. in support of his arrest and extradition proceedings.
Eventually, with advances in DNA analysis and the development of further evidence, the Crown determined it could meet its burden of proof in the cold case murder and Bogarh was charged on Jan. 31, 2018, according to records. At the time, however, Bogarh was living in a gated community in California, reported iNFOnews.ca.
Court documents state that shortly after an unsuccessful custody hearing for his son just a few months after the murder, Bogarh moved to California. A wiretap authorized in Canada intercepted a conversation in which Bogarh allegedly stated he intended to move to the U.S. if he experienced any problems in Canada. He has not been in contact with his son since.
In the late 1990s, while seeking election on the board of directors for a religious group, this Indo-Canadian man allegedly admitted to the crime.
"He was required to tell the truth in front of those witnesses because it was in the temple in the presence of his holy book. The fact of his involvement in the murder was what was preventing him from being approved to be on the executive. When confessing to killing his wife in Canada, he threatened all present that he would do the same to their daughters – a threat that in the Sikh and Punjabi culture has particular significance," the U.S. government says in court documents.
Bogarh's wife Saminder's story is a classic arranged-marriage with a groom from India gone terribly tragic with the crime of murder. Around 1983, Saminder's brother arranged for Bogarh to marry her in Canada. They had a son together and lived in Vernon. Around 1985, Bogarh sponsored his younger brother, Narinder, to immigrate to Canada from India and live with them.
Paramjit an Indo-Canadian man allegedly got into arguments with Saminder because he believed her dowry was insufficient. The documents cite witnesses who said Paramjit was violent towards Saminder and once chased her with a knife threatening to kill her.
In 1986, Paramjit bought two mutual life insurance policies in his and Saminder's names, for $100,000, for which the surviving spouse was the beneficiary.
In December of 1986, Bogarh and his brother Narinder allegedly met in secret in Vancouver. Narinder then bought a plane ticket to Kelowna and rented a hotel room for three days under a false name.
On Dec. 31, Saminder was stabbed to death in the bathroom of her home while her son was in the residence. The son gave statements like "daddy hit mommy with a knife and blood came out" to the RCMP.
A couple days later, on Jan. 2, 1987, Narinder had surgery in Vancouver to repair nerves and tendons on his fingers that had been severed. Canadian authorities said the injuries were consistent with a person's hand slipping off the handle of a knife onto the blade after the knife was suddenly stopped, the documents say.
Narinder gave other explanations, including that he'd been in a fight in the U.S. that he had injured his hand while cutting vegetables. He later fled to India, court documents say.
Later, in 1997 and 2000 with the assistance of police in India, the RCMP interviewed Narinder, who at that time allegedly confessed to killing Saminder.
Canadian authorities said DNA at the scene matched "that of a sibling of (Paramjit)" and Narinder was the only sibling in Canada at the time. He also matched blood found in a vehicle he rented and provided details of the crime only the killer would know, documents say.
The Bogarh brothers' lawyer Russ Chamberlain told the media that he will be seeking bail the week of June 18.
"This is a very old case and the evidence against him is very scant," Chamberlain said. "Based on the intel I received from the Crown, it's a weak case and the accused professes his innocence."
Chamberlain also represented both men in 1987 when arrests were first made.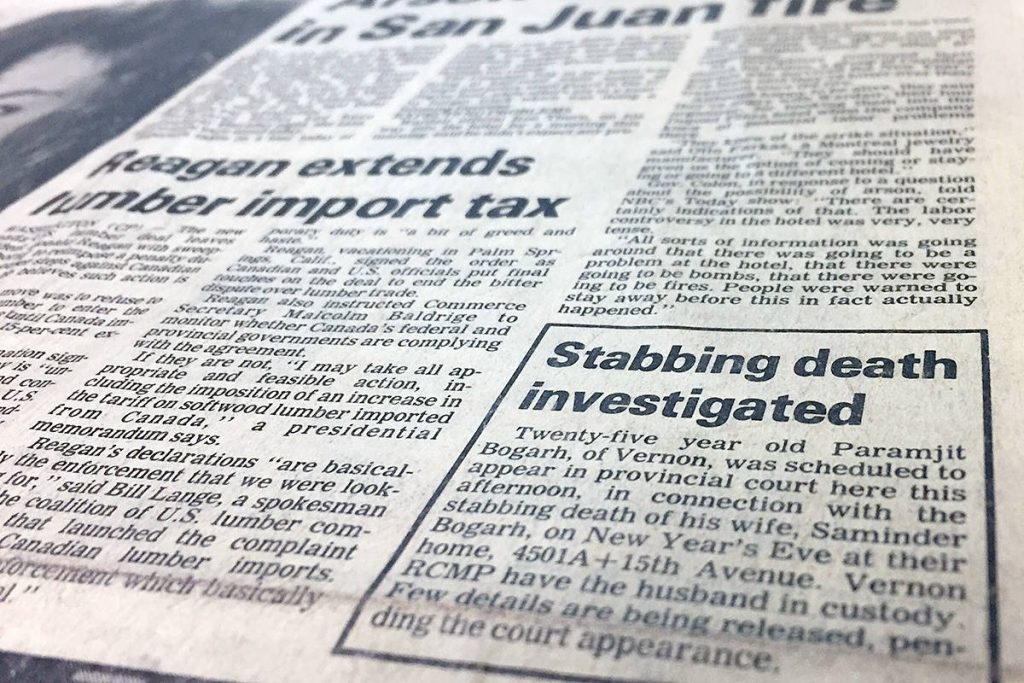 According to a Jan. 3, 1987 article in the Vernon Daily News, Murder charges stayed, a then 25-year-old Paramjit Singh Bogarh was charged with second-degree murder on New Year's Day and was scheduled to appear in court Jan. 2 in relation to his wife's murder.
However, instead of appearing in court Bogarh, who was a janitor, was released that afternoon when the Crown entered a stay-of-proceedings.
"RCMP Staff-Sgt. Jim Wilson told the Daily News there wasn't the evidence to support the second-degree murder charge," the article reads.
Only two articles regarding the incident appeared in the Daily News in January 1987 — Stabbing death investigated Jan. 2 and Murder charges stayed Jan. 3.
None of the charges against either man has been proven in court.
Paramjit Singh Bogarh remains remanded in custody.
With Files from iNFOnews.ca and Vernon Daily News